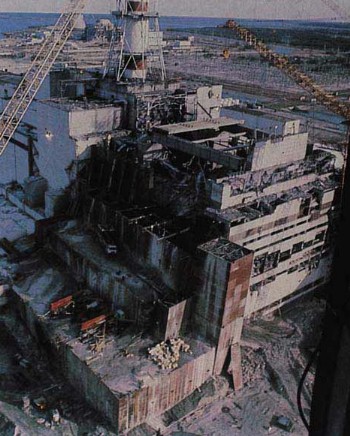 (Toledo, OH) Depending on which dateline you fall under, either yesterday or today is the twentieth anniversary of the Chernobyl nuclear disaster.
I heard a twenty-something news anchor mangle the pronunciation of "Chernobyl" last night, and it occurred to me that the youngish newscaster could be forgiven. After all, the person was likely a small child when the partial meltdown occurred in Reactor 4 on April 26, 1986.
Figures vary widely on the human costs of the catastrophe. Approximately 55 people died from radiation poisioning in the days and weeks immediately following the tragedy. Thousands more died from cancer and other diseases since 1986, while many thousands more will likely suffer reduced lifespans from acquired radiation-related diseases.
Greenpeace claims that 93,000 people have already died from radiation-related illnesses, and the group argues that in "Belarus, Russia and the Ukraine alone the accident could have resulted in an estimated 200,000 additional deaths in the period between 1990 and 2004."
Radioactive fallout from the disaster has spread throughout the northern hemisphere, circling the globe. The nations of Belarus and the Ukraine have been hardest hit, and areas of Russia continue to show dangerous levels of residual radiation.
Surprisingly the Ukraine government continued to operate the facility until 2000, arguing that the energy needs of the nation outweighed any risks to workers or the surrounding countryside.
Reactor 4 remains encased in a concrete "sarcophagus," and the deadly radioactive material threatens to seep into the groundwater.
Which brings us to the important question of the day: do the needs of Americans for affordable energy outweigh the unique risks associated with nuclear power? The dramatic rise in oil prices has generated calls for a renewed American nuclear energy effort.
While some might dismiss Chernobyl as indicative of the inefficiency of the Soviet system, the Davis-Besse plant near Toledo, Ohio came dangerously close to a similar fate several years ago. Corrosion on a reactor head created holes that were a mere 5/8" from being exposed to an uncontrollable meltdown.
This near-disaster could have been as deadly - or worse - than the catastrophe in Chernobyl. Look at your children before you answer.