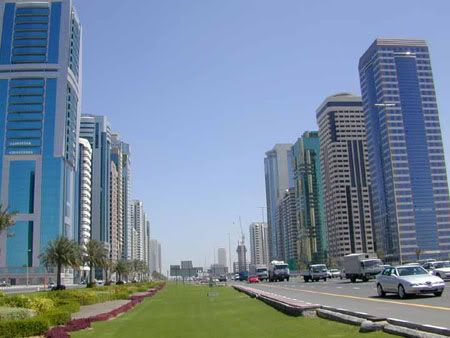 Skyline of the city of Dubai
News that
Halliburton
, the U.S. oilfield service conglomerate that is also the largest military contractor in Iraq, will move its corporate headquarters and its chief executive officer to Dubai in the United Arab Emirates certainly fired up the critics. Typical of the derisive comments were those by
Senator Hillary Clinton
.
"Does this mean they are going to quit paying taxes in America?" she asked. "They get a lot of government contracts, is this going to affect the investigations that are going on? Because we have a lot of evidence of misuse of government contracts and how they have cheated the American soldier and cheated the American taxpayer."
Halliburton CEO Dave Lesar
, who leads the exodus to Dubai, explained the rationale behind the corporate decision.
"As we invest more heavily in our Eastern Hemisphere presence, we will continue to build upon our leading position in the North American gas-focused market through our excellent mix of technology, reservoir knowledge and an experienced workforce," he said. "Our talented Western Hemisphere leadership will continue to grow this area of our business. The Eastern Hemisphere is a market that is more heavily weighted toward oil exploration and production opportunities and growing our business here will bring more balance to Halliburton's overall portfolio."
Despite the howls of protest from Democrats and America-firsters, Halliburton's move should come as no surprise in this era of hyper-capitalism. Corporations owe fealty only to one almighty concept: ever-growing profit margins.
If Senator Clinton were serious about the flight of corporate capital from the United States, she would push legislation to inhibit the practice. The Senator's comments are merely an opportunistic salvo directed in a backhanded fashion to Vice-President Dick Cheney, former CEO of Halliburton.
But that's politics.
The larger issue is the rise of multinationals like Halliburton, operating on a plane of existence above national structures. This, friends, is the future: boom cities like Dubai with exponential growth that appear almost overnight, offering free trade zones to salivating CEOs - at least until the next Dubai comes along.
Then the cycle repeats.
Until we decide that nations and - ultimately, human beings - are more important than multinational corporations, we will continue to see decisions like those of Dave Lesar and Halliburton. I suspect, though, that this era of hyper-capitalism has only just begun.